View cart
"BOX CORNER TEMPLATE" has been added to your cart.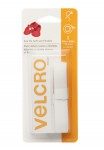 VELCRO – 30in x 5/8in – White
$4.50
3 in stock (can be backordered)
Product Description
Soft & Flexible fasteners are soft to the touch and pliable.These fasteners answer the demand for a softer touch closure. Ideal for infant clothing, light-weight fabrics,costumes and more.