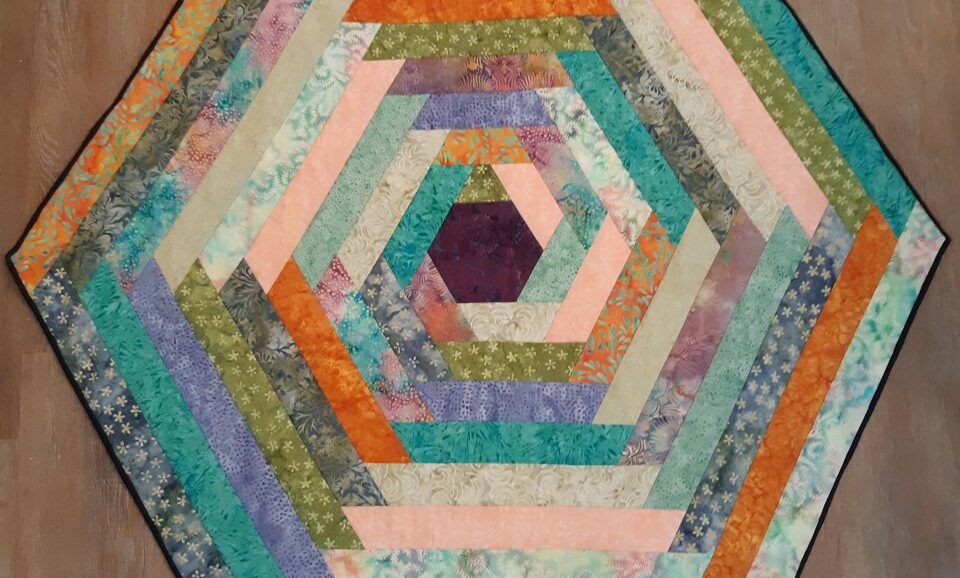 Island Batik & AccuQuilt Ready. Set. GO! Baby Quilt Challenge
As an Island Batik Ambassador, this month's challenge was to use my AccuQuilt GO! Machine and dies to make a fun baby quilt that features Island Batik fabrics; and let me tell you – what a fun project this has been.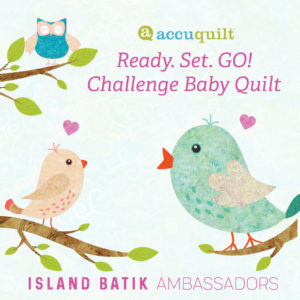 As I was getting ready earlier this month to place a new design for my monthly challenge, the idea of child's quilt bring many different mental images of various designs and themes but I wanted to take this challenge a little outside the design box and do it a little differently….. and well….I was thinking, who says that a baby quilt has to be rectangle or square….it can be any fun shape right? Well…the challenge this month was that the baby quilt needed to be 40″ to 48″ "SQUARE"….but in the excitement of working with this stunning fabrics and this magnificent AccuQuilt Cutter, I just missed the word SQUARE altogether – and well, the result is in another geometric chapter! 🙂
A lot of my customers are so into the QUILT-AS-YOU-GO type projects; and just as excited about SCRAPPY PROJECT that I wanted these 2 feature to be focused in this month's challenge project.
Introducing:
"RING AROUND THE HEXAGON"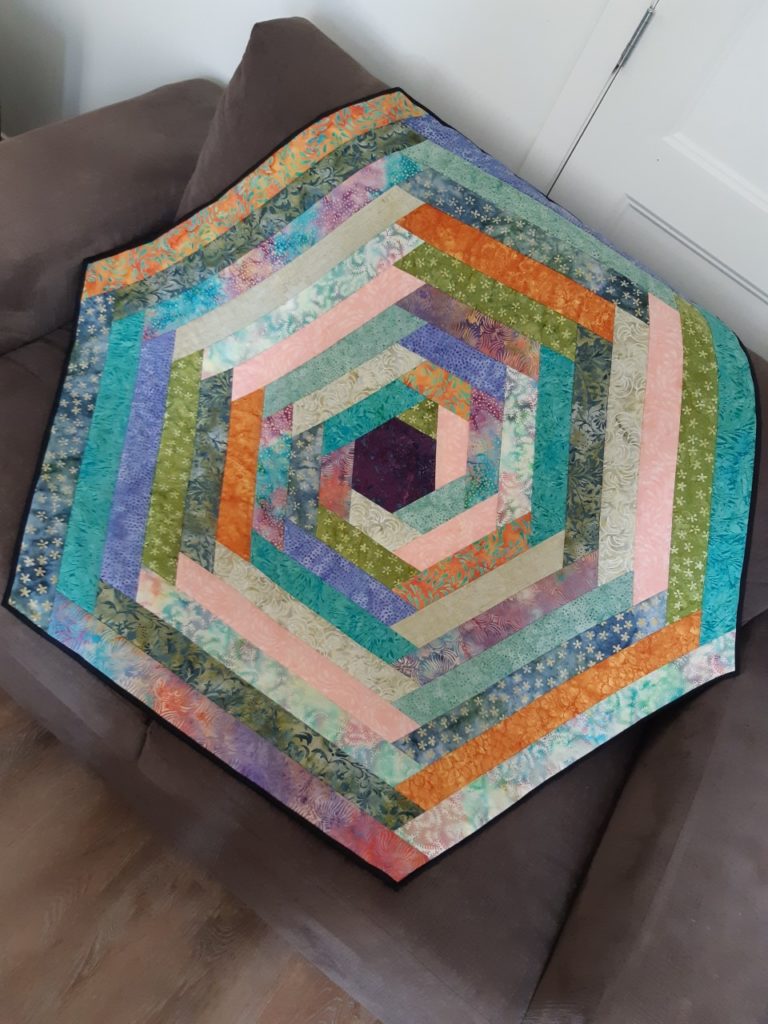 This whole project started with a simple 5-1/2″ cut hexagon that I wanted to use for a focus center in my quilt…..and from there, the rest is history.
The starting point to this fun creation was to cut a piece of HOBBS HEIRLOOM PREMIUM COTTON BATTING. Hobbs supplied us with a group of battings for our projects; this one is from the CRIB SIZE 45″ x 60″ which was perfect for this project. I was aiming for a 40″ finished project.
I cut my batting to be 45″ square, found the center point and drew the 5-1/2″ Hexagon as my jumping off point for the quilt. Since this is a QUILT-AS-YOU-GO project, I also cut a piece of backing fabric the same size. The Backing fabric was laid on my work table wrong side up with the batting on top.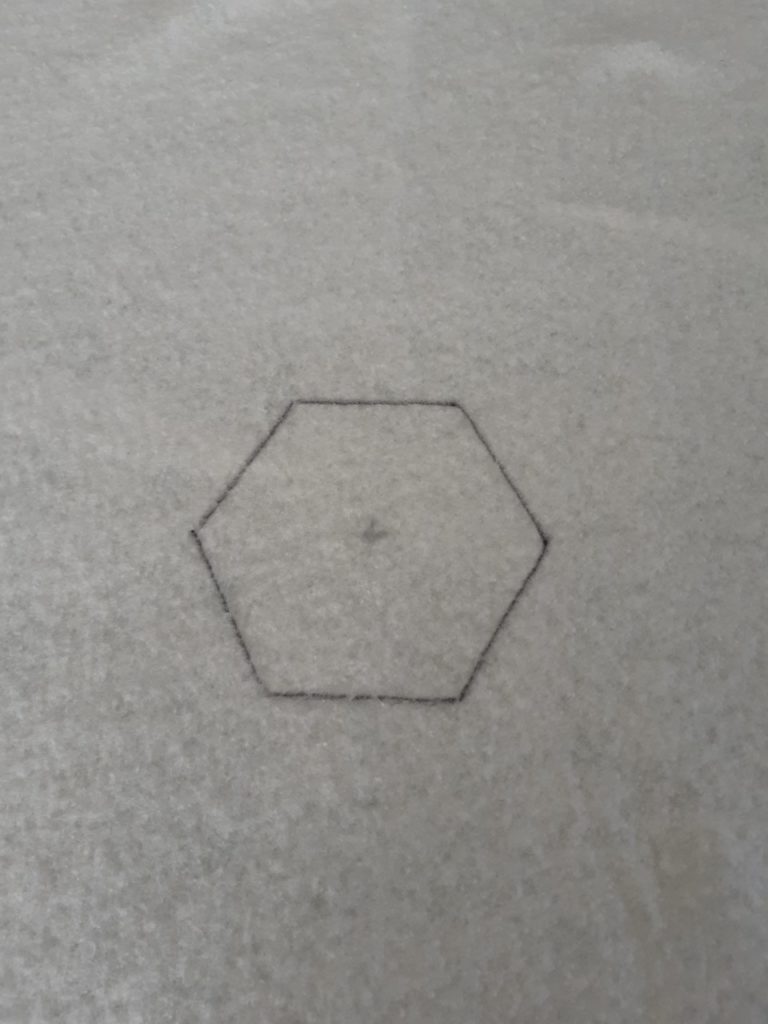 I then pinned my center Hexagon in place.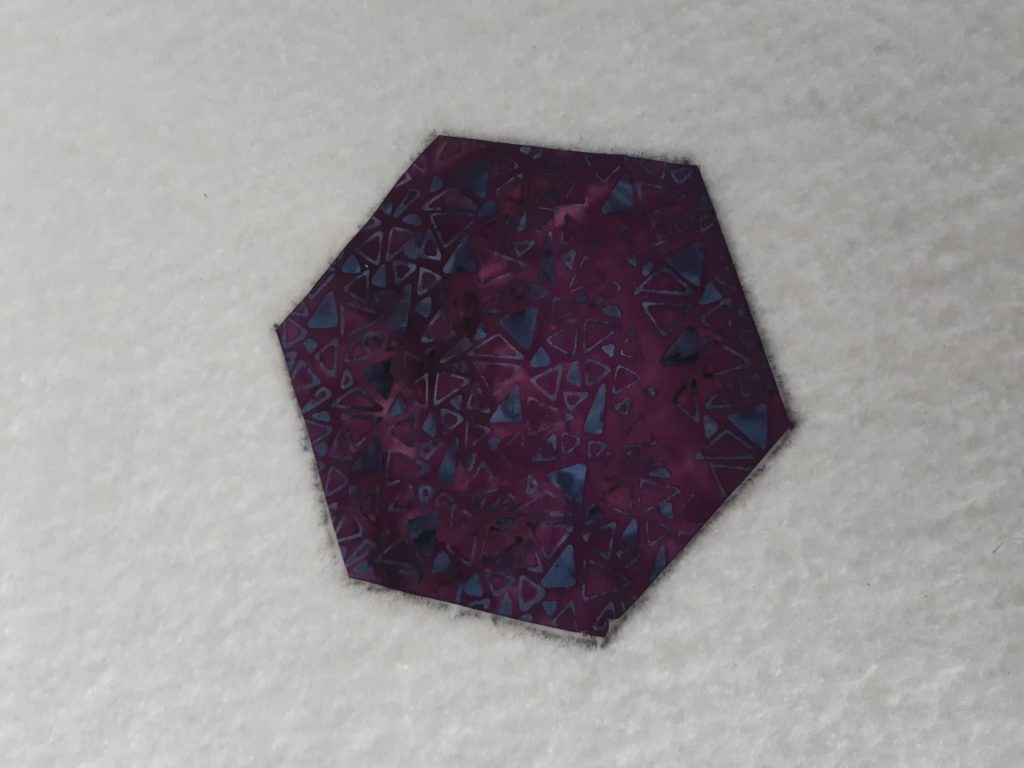 With the center Hexagon anchored, I had fun with the AccuQuilt cutter. I knew that I really wanted to focus on one particular die this month – the 2-/2″ width strip cutter….it's just the cat's meow and I love it so much….so it makes sense that my first AccuQuilt project would feature this die. Cutting the 2-1/2″ strips for this project was amazing…everything was cut and complete in around 10 minutes….how awesome is that…and without any extra laying out of fabrics, etc. I could easily layer my fabrics, and cut them so quickly.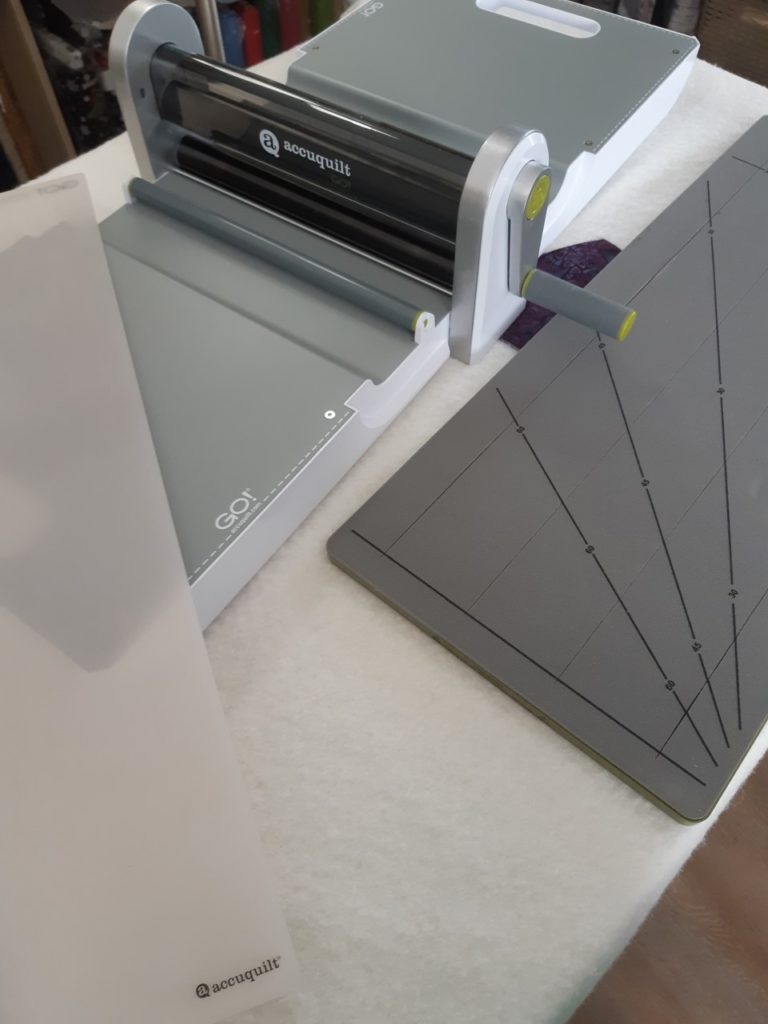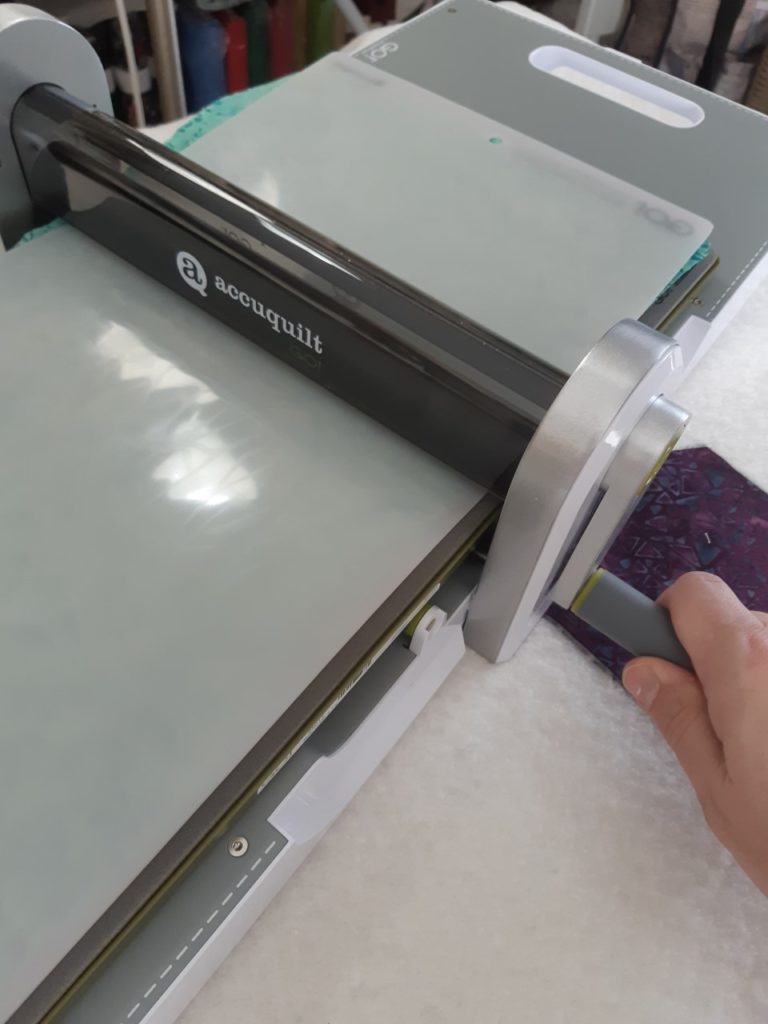 I could have just keep on stripping…. (cutting strips 🙂 ) but I knew that I had plenty for this project. What a super way of using up some of those smaller pieces because the strips used closer to the center of the quilt are quite short compared to the ones used near the outside.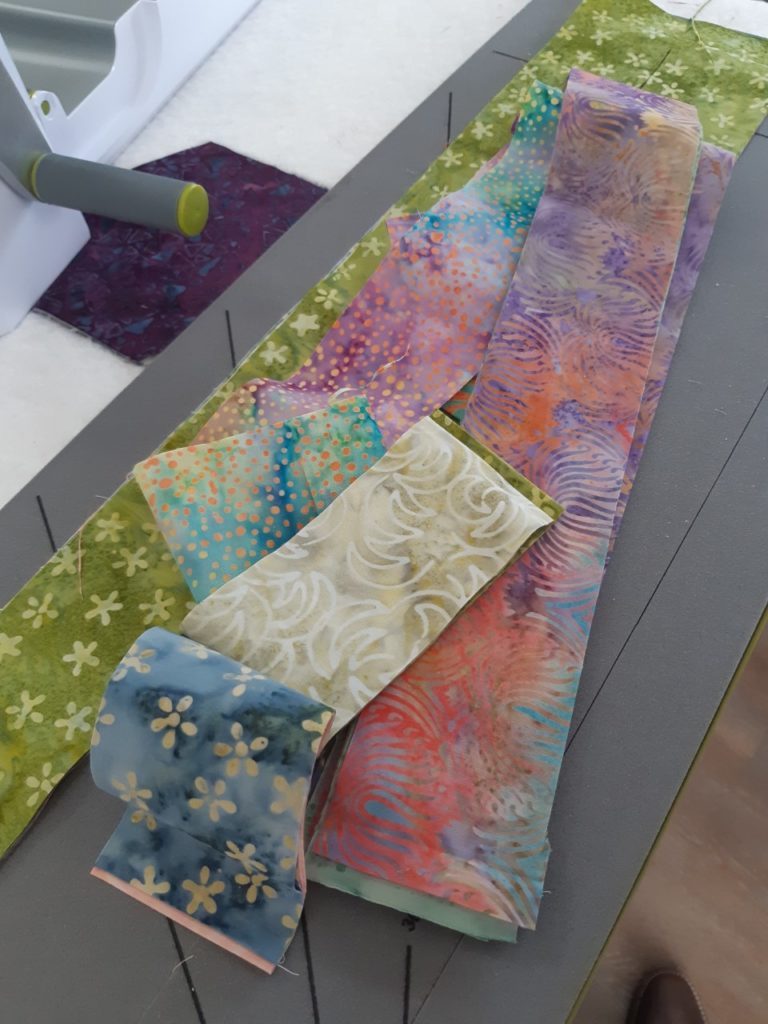 With the fun 2-1/2″ strips at my disposal, the fun part of selected each of the strips to sew around this Hexagon project had just begun. Strips were added 1 at a time, in a quilt as you go method; until I achieved the desired size of my baby quilt; which would mean adding 9 rows of strips around the center hexagon.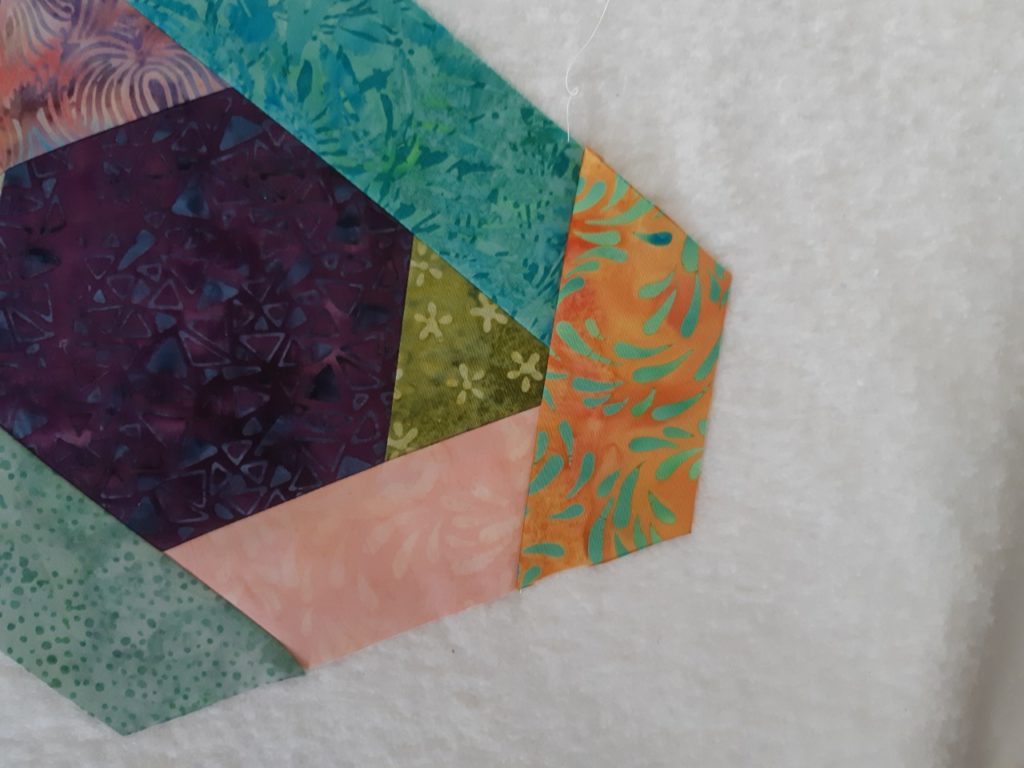 And here it is….. "RING AROUND THE HEXAGON"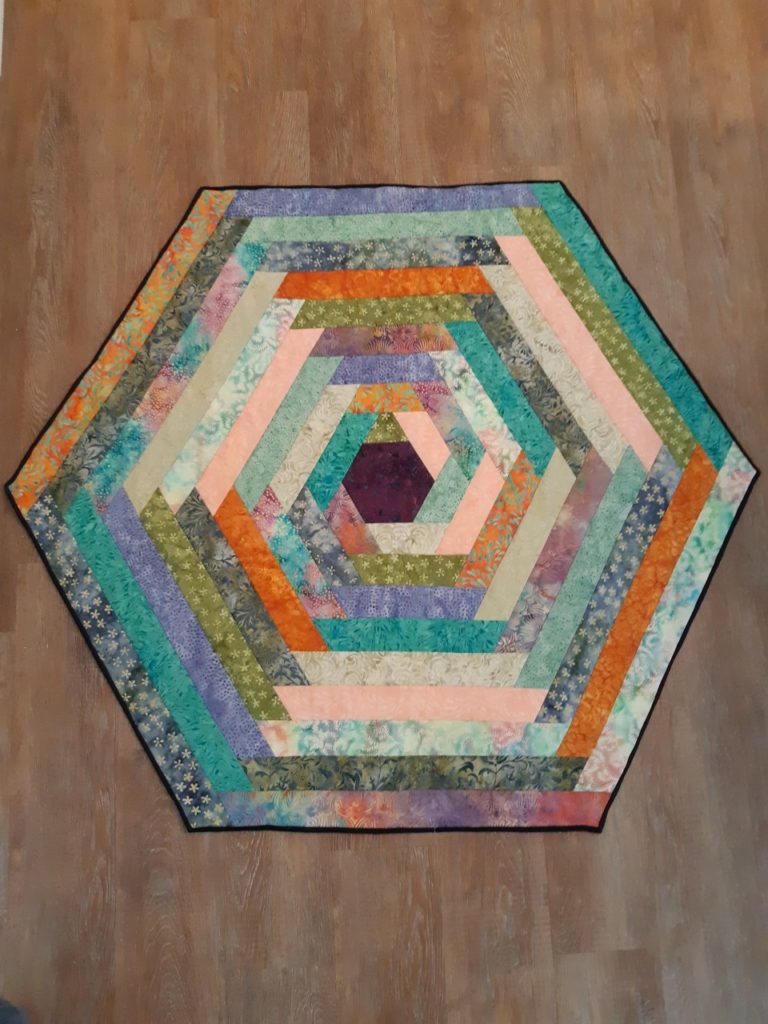 I would like to just take a moment to thank ISLAND BATIK for supplying all of these wonderful fabrics for our creative projects; to AccuQuilt for supplying the wonderful GO! Cutter which made this and will make so many more projects so much more enjoyable to create, and to HOBBS for their gift of fabric batting that gives this project such a wonderful handfeel.
To see more wonderful fabrics, projects, products… perhaps start by checking out the sponsor's Facebook pages…. there's so much to see there….. see what other Ambassador's are creating and get inspired to stitch!
https://www.facebook.com/islandbatik/
https://www.facebook.com/accuquilt/
https://www.facebook.com/HobbsBattingOfficial/

Have a very blessed and stitchy kind of day!
Bill