MAKE IT MODERN WITH HOBBS!!!!!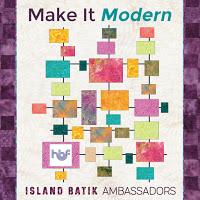 Well, another month is almost over…..and it's time to get the new project posted for the ISLAND BATIK AMBASSADORS program!!!! YEAH…I actually have 4 more days so I'm ahead of the game.. not an easy feat considering that this last couple of weeks have been so hectic…and that I am just getting back from the International Quilt Market in Kansas City. But…. I have been stitching quite a bit since I returned from Market…and one of the project was this May project for the Ambassador program.
The Theme this morning is MAKE IT MODERN WITH HOBBS….and the project requested was a crib size or larger quilt using Hobbs batting.
The first thing that I wanted to confirm was what would be the standard size for a crib quilt…well….that wasn't going to be an answer that one would find quickly or ever. Every website that I checked had a different size for a crib quilt; so I opted to kind of average it out and make the size that best fit the idea that I had in my head.
My project for May is entitled "MODERN SAFARI", 35″ x 45″
The quilt top is complete; although not yet quilted; with just getting back from the quilt market – and catching up on all of the deadlines, I felt that I'd get the top completed and then send this one off to my long arm quilter so she can work her magic on it over the next couple of weeks. My Quilter,Shelly Wicks of HALFYARD QUILTING STUDIO is the cat's meow and will put another spin on this one with her quilting……then I';ll be back with an update once the quilting is done and the the quilt has it's binding.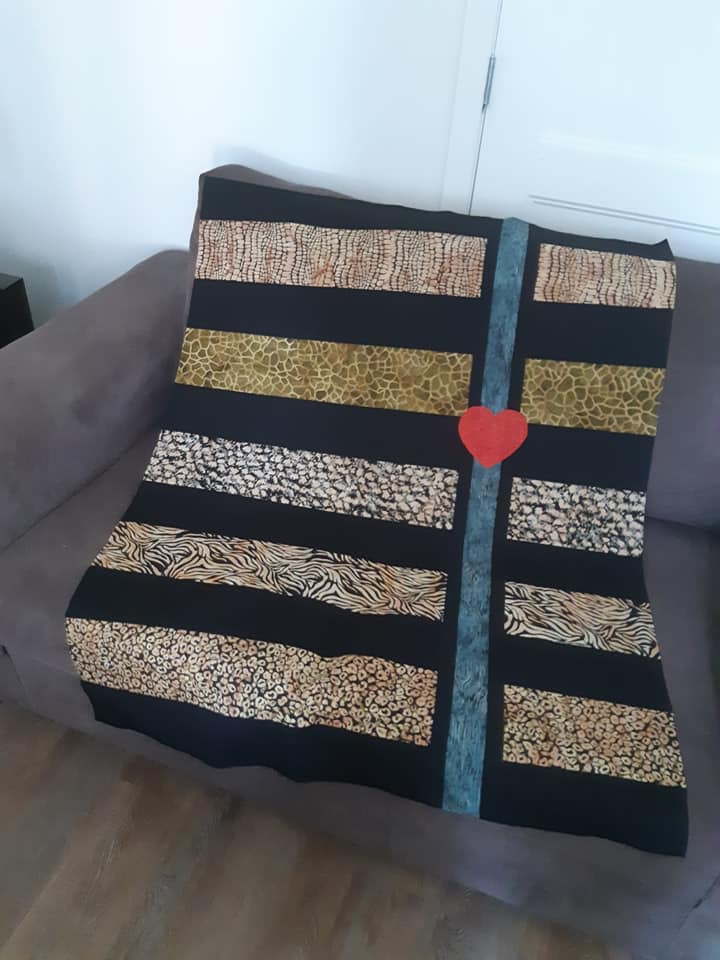 Now, those of you who know me will know that there are really not a lot of modern bones in my creative mind or body…..if there is one, I've yet to find it. 🙂 But, with this challenge set forth in our Ambassador guidelines, I was very much looking forward to stepping out of my comfort zone to create my version of what I feel modern would be for this project.
The one thing that I new I wanted to do was to use something that was fun like these animal print fabric…..and I had the perfect ones in my Island Batik stash in lovely 5″ strips.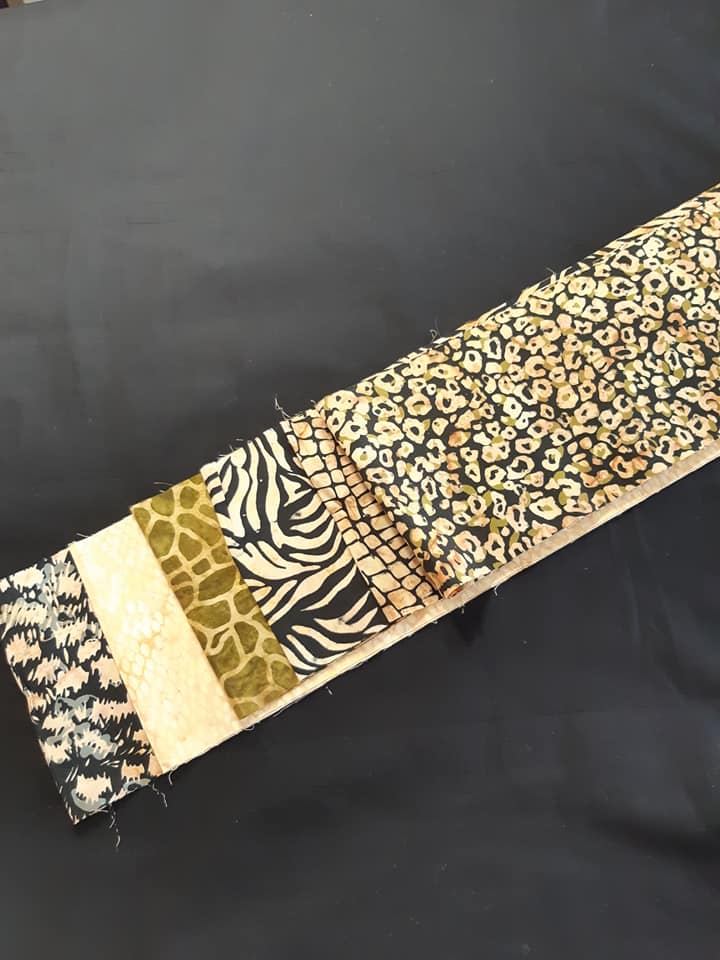 I knew that a modern quilt needed to have one of the characteristics defined by the modern quilt quilt…. I thought that perhaps I covered the bold prints (kind of)…although I aimed for print style rather than bright colors. But, I saw a snippet of that blue shade coming though in one of the animal prints and decided that a vertical strip of that blue would make a splach of color in the quilt; and well, adding the red appliqued heart kind of gave it a double splash. Since it is a child's quilt, I thought that the heart was appropriate.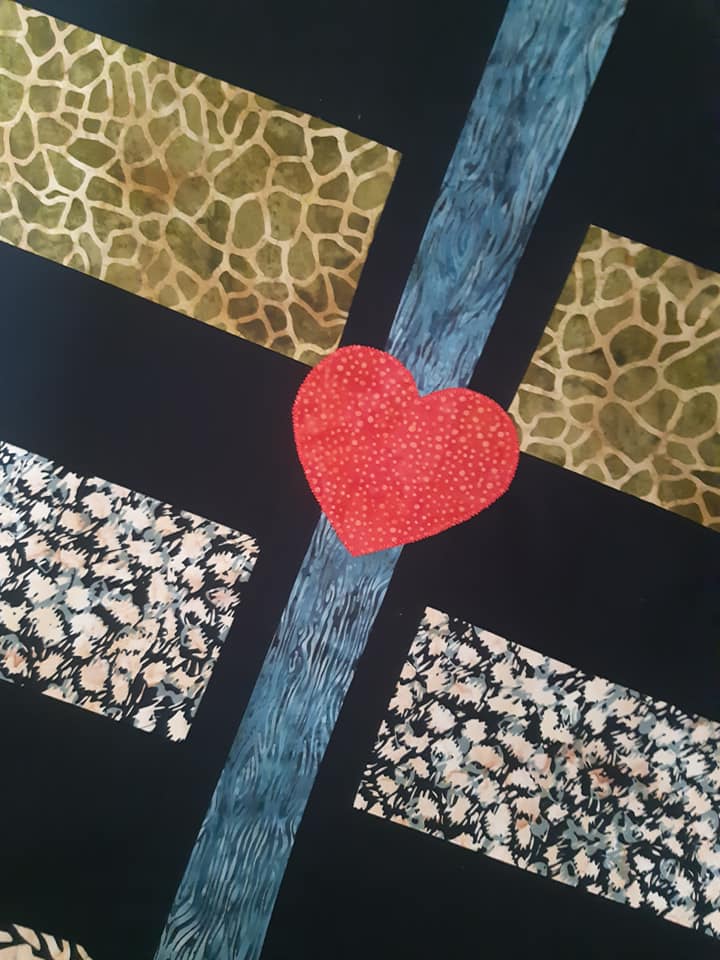 Graphic area of solid color was another option – I used a lot of solid black – I am hoping that that will count towards this feature.
Minimalism is another modern feature. Perhaps with the very few pieces uses and the way that I've pieced this one, that may fit into the minimalism category.
This one will be quilted using the HOBBS 80/20 BLACK BATTING; the perfect batting for a quilt with a lot of black in the quit top/backing.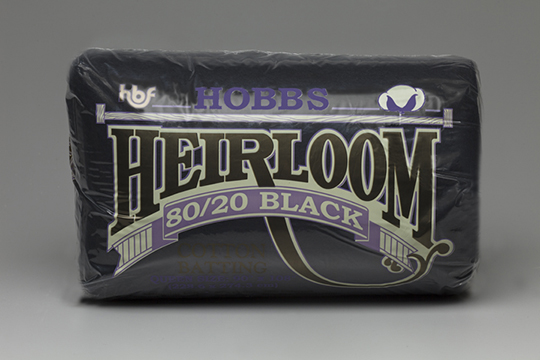 This easy and fun designs allows you to make an adorable quilt in a couple of hours….. all of the prints used in this quilt are 5″ wide x 31-1/2″ long.
Except for the top and black strips which are cut 3-3/4″ x 31-1/2″, the balance black strips are cut 4-1/2″ x 31-1/2″ long.
You're simply sewing all of the strips together; then cutting 9-1/4″ from the right side of the quilt once the quilt top is complete.
The vertical stripe is a 2-1/2″ blue strip, with 1-1/5″ of black added to each side, then the quilt top pieces are stitched to this vertical strip. Once that is complete, the only other step was to applique the heart.
Now, how easy can making a child's quilt be……VERY SIMPLY WITH LOTS OF IMPACT….you gotta love that. 🙂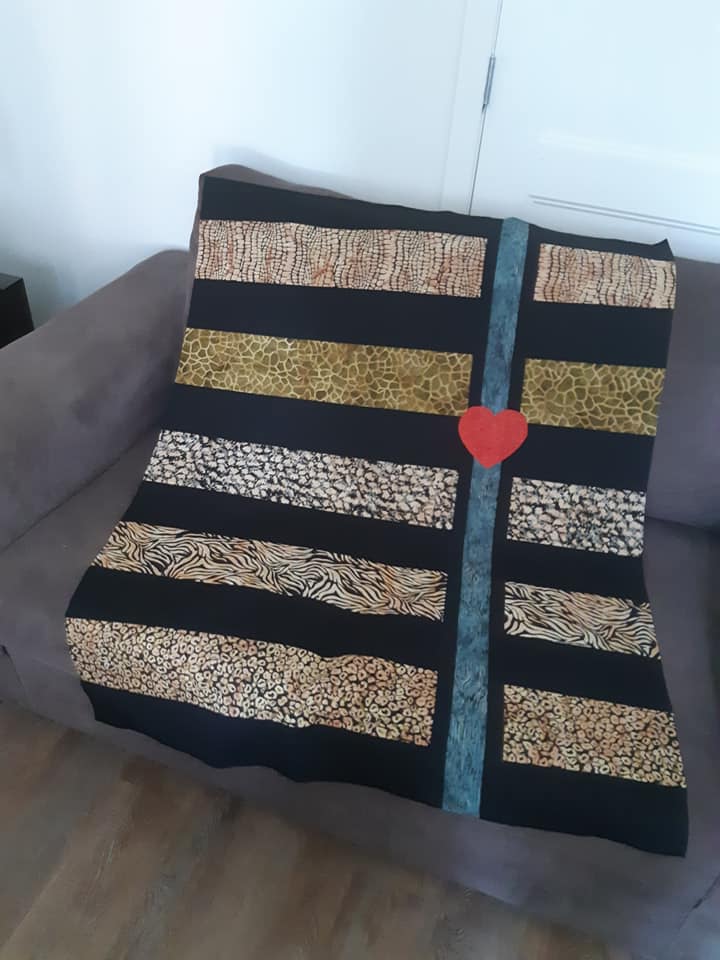 Be sure to check out ISLAND BATIK on Facebook and see lots of other fun designs that are being presenting this month by all of the ISLAND BATIK AMBASSADORS. https://www.facebook.com/islandbatik/
I would like to also invite you to come over and visit me on Facebook and Instagram:
https://www.facebook.com/bill.locke.96
https://www.instagram.com/billlockedesigns/
I would like to take ISLAND BATIK For the beautiful fabrics that were supplied to make this fun quilt top and to HOBBS BATTING for so generously supplying the batting to complete the project.
Happy Stitching everyone!
Bill