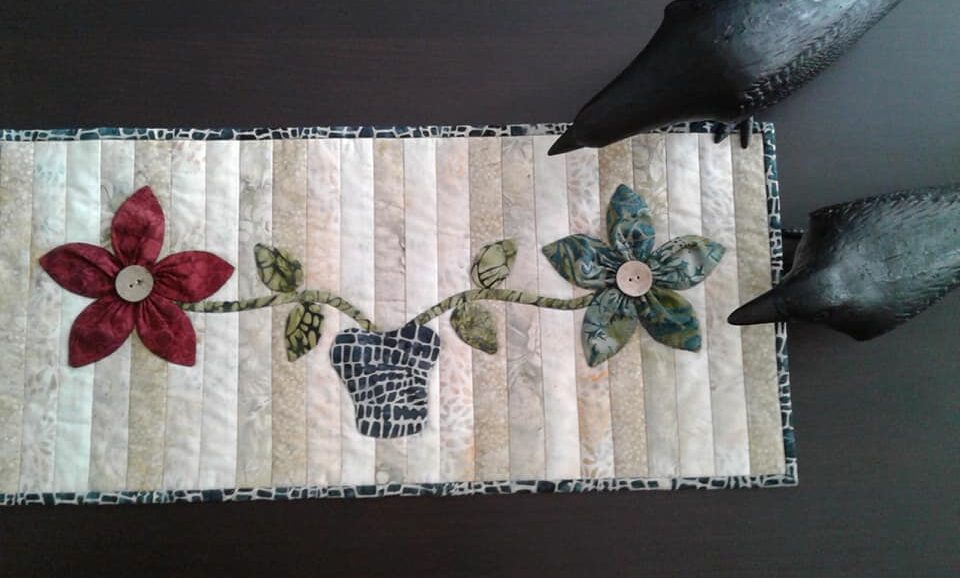 February 1st marked a new fun time in my quilting…since it was the start of my ISLAND BATIK AMBASSADORSHIP 2019.
Many of you watched the unveiling video where I shared so many wonderful things that were sent to the Ambassadors this year to use in the creation of wonderful, fun projects to showcase the ISLAND BATIK Fabric, HOBBS Batting, AURIFIL Thread and as well the ACCUQUILT Go Cutter.
For February, the challenge for all Ambassadors was to create a "MAGNIFICENT MINI".
In 2012, I designed a pattern for a "VINTAGE MINI RUNNER" but have put it aside to recreate in a different style/theme at a later date; I knew that when I started to work on my "Magnificent Mini", my mini runner was going to be the base on this project.
I love taking the more modern batik prints and introducing them to a more traditional approach of quilting. This new version of the "VINTAGE MINI RUNNER" is an extension of that idea. Measuring just 10″ x 23″, it is the prefect size for a fun afternoon project; and definitely an adorable "Magnificent Mini". For this project, I dug into my delicious Island Batik stash to find a mix of cream background strips for my base; and then from my new Ambassador Box, I found these special prints for my appliques and binding. The prints all beautiful but I especially love the one that I found for the flower basket binding – One 5″ stripe was enough to complete this part of the project.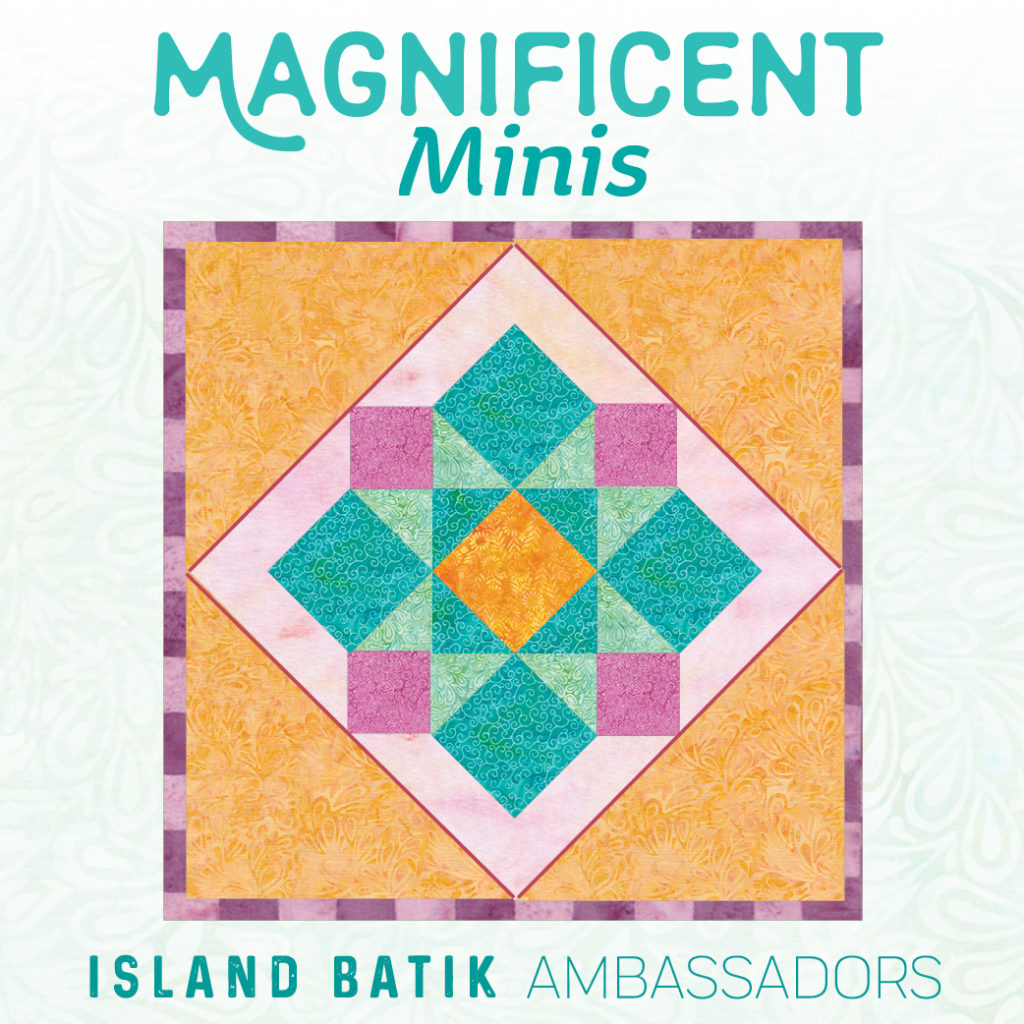 The "Vintage Mini Runner" is made up of an assortment of 1-1/2″ strips that I used to prepare the base of my project in a QUILT-AS-YOU-GO (QAYG) Method. The QAYG method is a wonderful way to complete a project more quickly and easily since the project is quilted once you finish the runner top.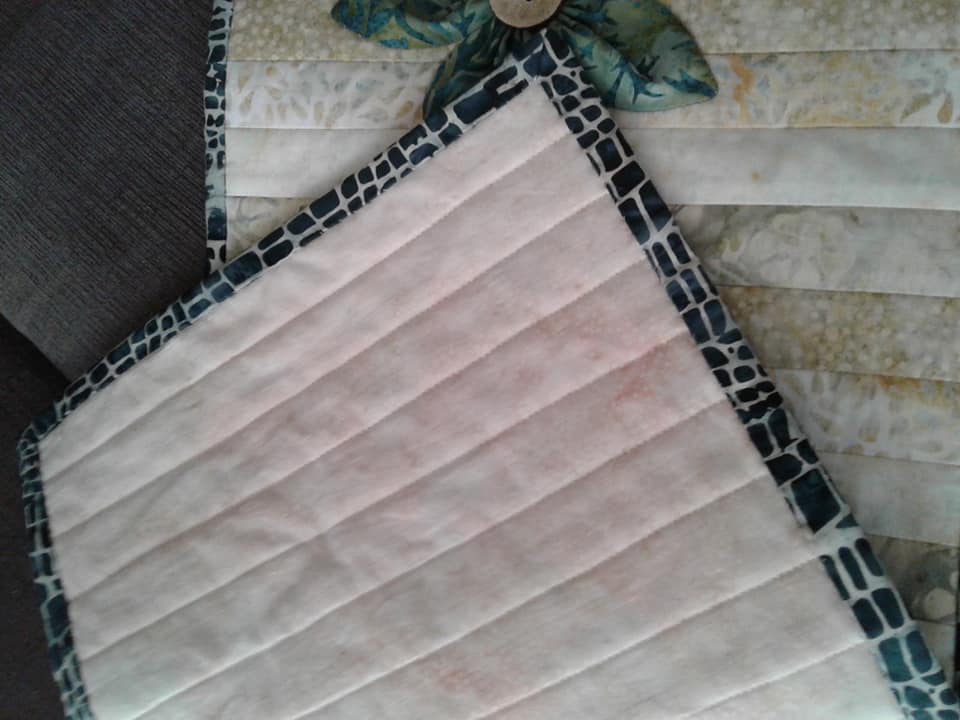 The applique technique that I used is one that I call "APPLI-SIMPLE" where the appique pieces are backed with a very light-weight interfacing. In additional to using the "APPLI-SIMPLE" method, I've also done this project in a 3-D effect with the petals of the flowers having some depth in the applique process. The Appliques were completed by hand.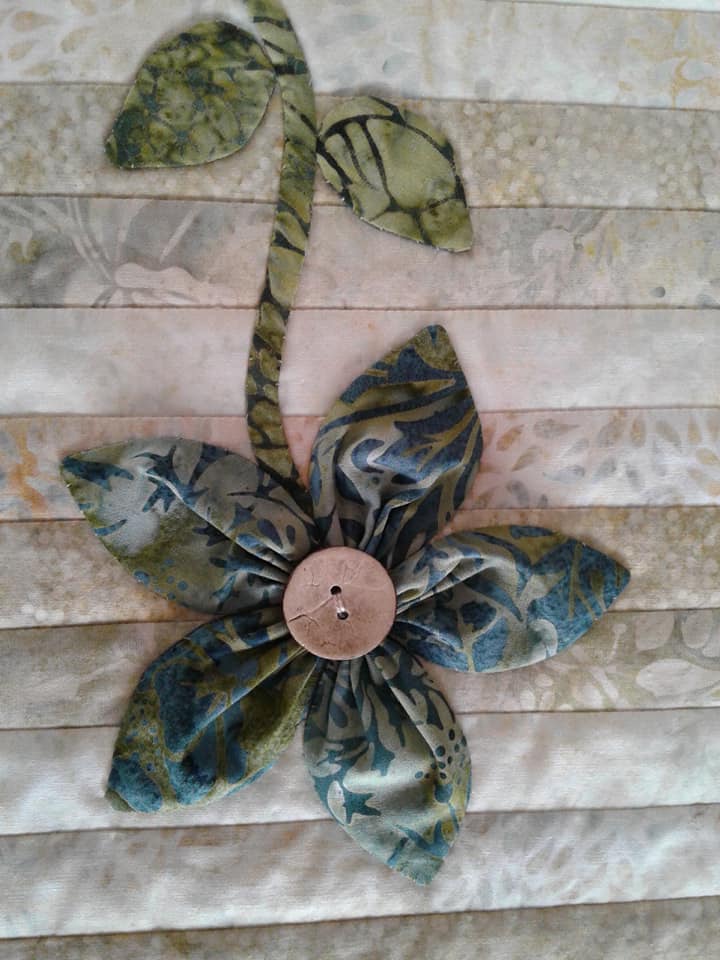 Learn more about my "APPLI-SIMPLE" technique here: https://www.youtube.com/watch?v=nAGBygBkzc8&t=39s
The batting used in this project is the HOBBS CHIEIRLOOM PREMIUM Cotton Batting, 80/20 Cotton/Poly. This batting has the perfect weight and drape quality that I enjoy for my table runner and other simpler projects.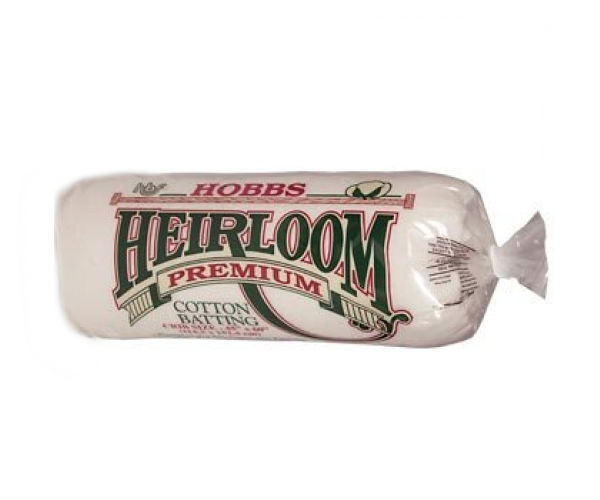 I've had a lot of fun with this project; and am already thinking about the March project for our Ambassadorship……. be sure to subscribe to my blog; and remember your comments are very welcome.
Happy Stitching!!!!!!!!
Please check in at the be sure to check out the other Magnificent Minis from all of the Island Batik Ambassadors
Carolina Asmussen ~Carolina Asmussen
Gene Black ~ Gene Black
Pamela Boatright ~ Pamela Quilts
Connie K Campbell ~ Freemotion by the River
Anja Clyke ~ Anja Quilts
Tina Dillard ~ Quilting Affection Designs
Becca Fenstermaker ~Pretty Piney
Jennifer Fulton ~ Inquiring Quilter
Barbara Gaddy ~ Bejeweled Quilts by Barb
Dione Gardner-Stephen ~ Clever Chameleon
Sarah Goer ~ Sarah Goer Quilts
Vasudha Govindan ~ Storied Quilts
Lori Haase ~ Dakota City Quilter II
Joanne Hart ~ Unicornharts
Mania (Magdalini) Hatziioannidi ~ Mania for Quilts
Carla Henton ~ Create in the Sticks
Stephanie Jacobson ~ Steph Jacobson Designs
Connie Kauffman ~ Kauffman Designs
Joan Kawano ~ Moosestash Quilting
Kim Lapacek ~ Persimon Dreams
Emily Leachman ~ The Darling Dogwood
Leanne Parsons ~ Devoted Quilter
Bea Lee ~ BeaQuilter
Toby Lischko ~ Gateway Quilts & Stuff
Bill Locke ~ Studio Bill Locke
Denise Looney ~ For the Love of Geese
Leah Malasky ~ Quilted Delights
Sally Manke ~ Sally Manke
Maryellen McAuliffe ~ Mary Mack's Blog
Kathleen McCormick ~ KathleenMcCormick
Carol Moellers ~ Carol Moellers Designs
Karen Neary ~ Sew Karen-ly Created
Jackie O'Brien ~ If These Threads Could Talk
Laura Piland ~ Slice of Pi Quilts
Michelle Roberts ~ Creative Blonde
Vicki Schlimmer ~ Vicki's Crafts and Quilting
Gail Sheppard ~ Quilting Gail
Sherry Shish ~ Powered by Quilting
Anita Skjellanger , Quilt in a not-Shell
Laticia "Tish" Stemple ~ Tish's Adventures in Wonderland
Jennifer Strauser ~ Dizzy Quilter
Jennifer Thomas ~ Curlicue Creations
Terri Vanden Bosch ~ Lizard Creek Quilts
Alison Vermilya ~ Little Bunny Quilts
Sandra Walker ~ mmm! quilts
Suzy Webster ~ Adventerous Applique and Quilting
(Debora) Anne Weins ~ Sweetgrass Creative Designs
Geraldine Wilkins ~ Living Water Quilter
Janet Yamamoto ~ Whispers of Yore