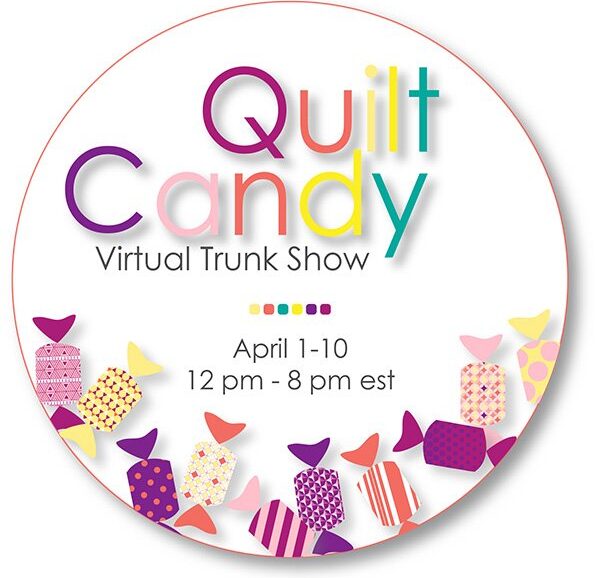 "QUILT CANDY VIRTUAL QUILT SHOW"
Seriously, now how wonderful is this – 10 days of quilt shows brought to you in the comfort of your home, to inspire, to get your mind facing along the thoughts of fabrics and thread and fun sewing!
Well, if you are in the sewing slumps – and need a little kick in the sewing behind to you back to the sewing machine, perhaps this is just what you need.
A wonderful bunch of my quilty designer friends and myself invite you enjoy our series of TRUNK SHOWS – coming to you via FACEBOOK LIVE each day for the next 10 days…..
The QUILT CANDY VITRUAL QUILT SHOW starts today and will be 10 days of about 60 designs (myself included 🙂 ) who will be bringing you fun, FACEBOOK LIVE videos each day from April 1-10, from Noon til 8 p.m. each day – every hour on the hour – for 15 minutes of quilting pleasure!

YEAH! YEAH! YEAH!
Each designer will be selecting some of their favorite quilts and designs to share with you in eash of the videos.
Each day I'll be posting the day's list of designers with links to their Facebook pages so that you can click on the links and join in with ease – nothing to looking for – just click on the links that you'll find here in my blog post.
While I can't replace all of that, I can provide you with a bit of distraction over the nex
Join me and a whole bunch of my quilting friends as we present virtual trunk shows for your viewing pleasure!
From April 1 through April 10 12pm EST to 8pm EST, different quilters will present 15 minute trunk shows to you live from their Facebook accounts! How exciting is that? See some old favorites, and find some new one!
Here is the schedule of events – so mark your calendar!
12pm EST Andi Stanfield facebook.com/Anditruebluequilts
1pm EST Nancy Scott facebook.com/MasterpieceQ
2pm EST becky jorgensen https://www.facebook.com/patchworkposse/
3pm EST carolina moore facebook.com/alwaysexpectmoore
4pm EST Jackie Kunkel https://www.facebook.com/cantonvillagequiltworks/
5pm EST Connie Jonson Sayler https://www.facebook.com/PacificRimQuiltCompany/
6pm EST Laura Piland/Slice of Pi Quilts  https://www.facebook.com/sliceofpiquilts/
7pm EST Sandra Starley https://www.facebook.com/TextileTimeTravels
8pm EST Swan Sheridan www.facebook.com/swanamitystudios
So, Please grab a cuppa and enjoy the show!!!!!!!
Happy Stitching everyone!!!!!!!