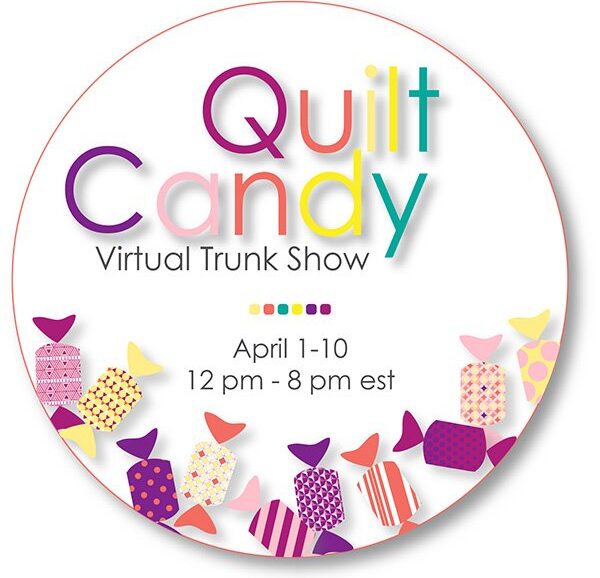 Day 2 of the QUILT CANDY VIRTUAL TRUNK SHOW!!!!!!
Time to grab a cuppa of your favorite beverage; something appropriates for the morning! LOL and watch a new group of designer friends share their fun creations with you via FACEBOOK LIVE
Each day I'll be posting the day's list of designers with links to their Facebook pages so that you can click on the links and join in with ease – nothing to looking for – just click on the links that you'll find here in my blog post.
From April 1 through April 10 12pm EST to 8pm EST, different quilters will present 15 minute trunk shows to you live from their Facebook accounts! How exciting is that? See some old favorites, and find some new ones
On today's agenda we have 7 Designers from 12 noon til 6 p.m.:
Here is the schedule of events – so mark your calendar!
12pm EST Lisa Ruble https://www.facebook.com/LoveToColorMyWorld/
1pm EST Beth Helfter Www.facebook.com/EvaPaigeQuiltDesigns
2pm EST Diane Bohn/From Blank Pages https://facebook.com/fromblankpages
3pm EST Deb Eggers/the cottage rose https://www.facebook.com/cottagerosequilt/
4pm EST Heidi Pridemore/The Whimsical Workshop https:/www.facebook.com/thewhimsicalworkshop
5pm EST Kate Colleran https://www.facebook.com/SeamsLikeaDreamQuilts/
6pm EST Tammy Silvers/Tamarinis https://www.facebook.com/tamarinis/
Enjoy everyone!!!!