"STITCHING WITH BILL" Material List for Mar 30th
Tomorrow, Monday, March 30th will be the first installment of our "STITCHER'S TRIO" Project.
The first of 5 fun stitching days!!!!!!
I want to remind everyone that tomorrow at 1:00 p.m. EST (Montreal/New York), (10:00 Pacific, 2:30 Newfoundland), I will be doing a Facebook Live so discuss the beginning of the project and the first steps to mover forward in our fun creative projects.

Meanwhile, I wanted to take a few moments to give you the Material list of what you need to gather for the project; keeping in mind that we will be completing all 3 of the projects in this pattern; the apron, the travel project portfolio and the pin cushion.
The Material list will be giving the day prior to my next Facebook Live so that will have the necessary items ready for the next step in your project.
NOTE: If there is something that is being used that you do not have or cannot find; you can order any of the projects from the Studio.
A reminder that we are working out way though the complete STITCHER'S TRIO Pattern over the next 5 days. It may be possible that some of you may not have all of the materials that I have used for the completion of the projects, but that's ok. We will do what we can each day; and the FB Live Videos will be uploaded and published each day to Facebook and YouTube so that you can go back and use them has a reference to completely any portion of the project that does not get completed during this week.
Of course, I am always just a message away to answer any of your questions and to provide direction.
MATERIAL LIST – Day 1
14 assorted/Coordinated 2-1/2″ strips + 2 yards of a coordinating fabric
* This is what we'll be using all week to complete all 3 of our projects.
You will need your 24-1/2 ruler or other long ruler
Quilting pen/pencil
Pins
I'm going to be stitching along and making my STITCHER'S TRIO in the KEEPING YOU IN STITCHES JELLY ROLL!!!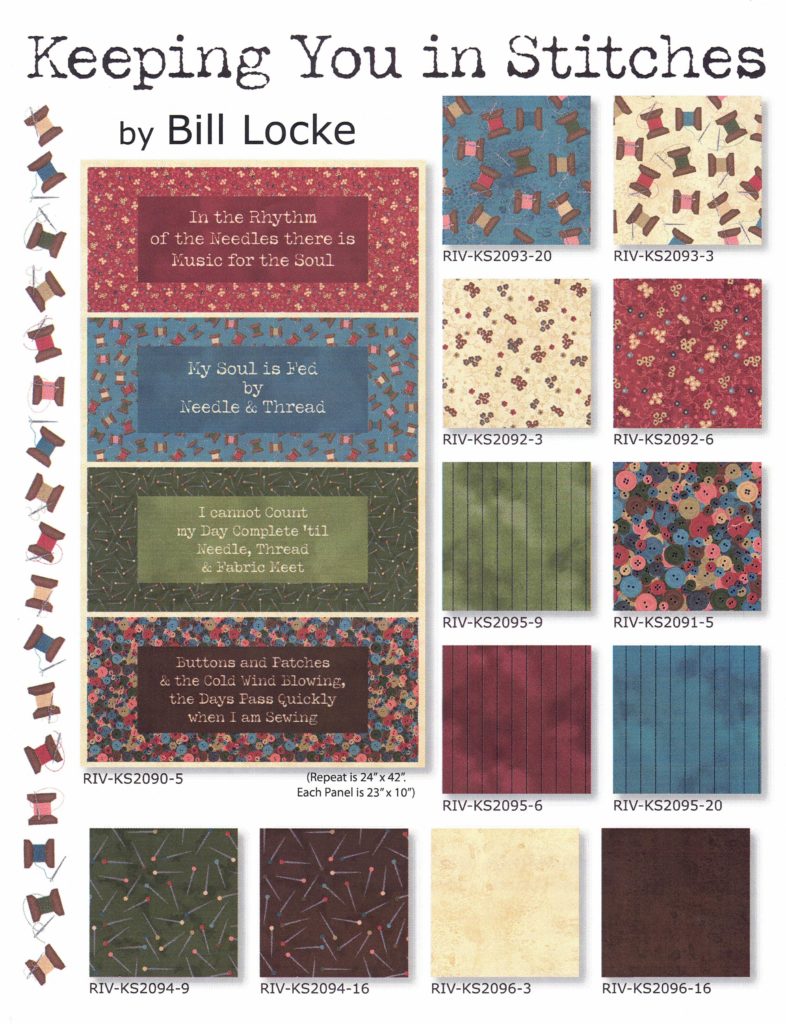 I've broken the projects this week into 5 sessions because I want to have smaller portions of homework for each day – so that everyone can work at a good comfort level; whether beginner, intermediate or advanced….and together we can all work on these fun projects and complete them by the end of the week.
I hope that you'll join in on the fun….if you are working this week; it is because you are a part of our essential team and for that I do want to take this moment to say a heart felt thank you!